Accelerated Fast Orthodontic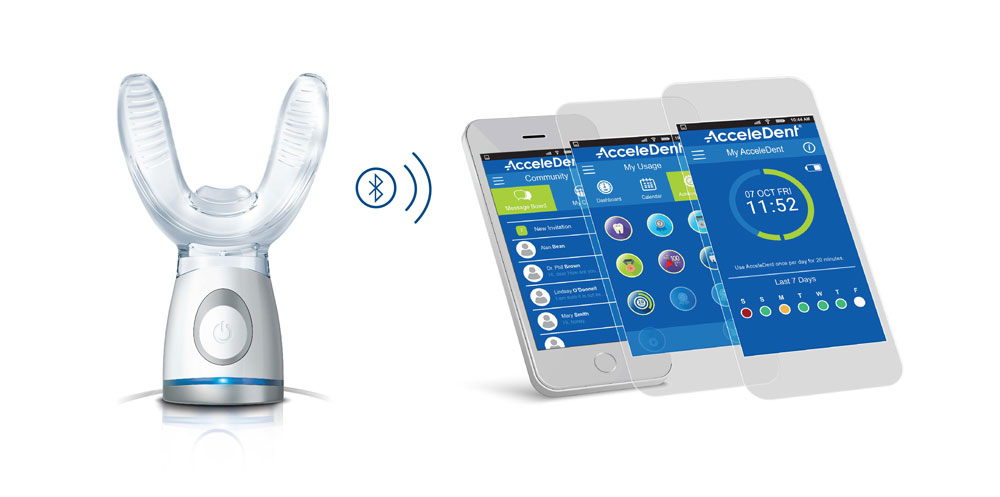 How works
Acceledent® Optima ?
The Acceledent Optima orthodontic acceleration braces are very easy to use. You just have to activate it and wear it for 20 minutes a day while having your Invisalign aligners. In addition, you will always have a free hand.
Optima produces micro-pulses in your teeth and bones, allowing the teeth to move more freely which facilitates orthodontic treatment. The pressure exerted is very gentle and is 8 times less than that of an electric toothbrush.
Science has made it possible to discover innovative methods of bone remodeling around teeth. The device creates a complete bone remodeling process that is very different from conventional orthodontic treatments.
New!
Even faster!
We live in a world where speed of execution is often paramount. The field of orthodontics is no exception. It is now quite possible to do a full orthodontic treatment in terms of months and not years. At Centre Dentaire Matthieu Ménard, we are proud to offer you the most advanced technological solutions available in terms of accelerated or rapid orthodontics.
The Optima version is the 3rd and latest generation from Acceledent, a pioneer in the field. Also, Optima therefore replaces the Acceldent Aura version. Optima is quite simply the most advanced orthodontic acceleration device to date. Its use saves processing time up to 50% faster, and that in the greatest comfort.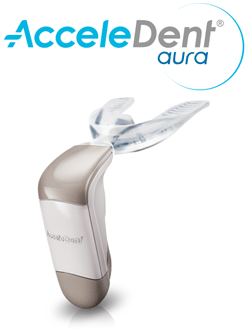 AcceleDent®
New ! Faster !
With this new system , we can speed up the correction of your teeth.
We combine this technology with Invisalign to reduce the total duration of your orthodontic treatment.
How AcceleDent® work?
The device must be worn 20 minutes a day . The gentle vibrations affect bone remodeling in order to accelerate the repositioning of your teeth.
PROPEL®
The number one concern of the patient before starting orthodontic treatment is the time required
Today, many adults are seeking orthodontic treatment to improve their social, psychological and overall health in their lives. However, most patients do not want orthodontic treatment for a long period of time.
Accelerated orthodontics is a new technology in orthodontic treatment that can achieve the same goals as traditional orthodontics in less time. The main advantage of accelerated orthodontics is speed. With traditional orthodontics, patients may need to wear the device for two to four years, or aligners for 12 months, but with accelerated orthodontics, the time is reduced by 50%.
Dr. Matthieu Ménard offers PROPEL®, an advanced orthodontic technique that works with your Invisalign adapters to accelerate your orthodontic treatment.