Invisalign®
Orthodontics for the whole family – Adults and adolescents

In the field of orthodontics, Invisalign is now recognized as the most discreet advanced technology, efficient, comfortable and easy to use. The vast majority of orthodontic problems can be treated through removable plastic trays (the "aligners") among both adults and adolescents.
The "aligners" are almost invisible to your friends and colleagues. If anyone notices that you wear them, it's probably because they are too close to you!
With new knowledge, the vast majority of orthodontic problems can be treated with Invisalign.
With acquired advanced techniques, the average length of treatment is 12 months.
The Invisalign technique is more comfortable compared to traditional braces.
Because you can remove the "aligners" during meals and to brush your teeth, you can maintain the same lifestyle and dental hygiene than before treatment.
Dr. Ménard is passionate about the Invisalign technique which allows him to have total control over all of your treatments. He is constantly looking for new knowledge during training in Quebec and abroad.
Dr. Ménard participates monthly in a circle of studies in orthodontics applied to the Invisalign technique. He is also a member of the American Academy of Clear Aligner and regularly is training there which will allow you to benefit from and be informed of the latest knowledge in the field of orthodontics.
In 2016 Dr. Ménard went to the Invisalign computer factory in Costa Rica which allowed him to meet the Invisalign technicians. This greatly improve his expertise and efficiency in treatments.
Anxious to improve the quality of treatments in 2016, Dr. Ménard integrates iTero digital fingerprints (see below). To stay on the cutting edge, in 2018, and in 2021, the clinic acquired the most recent generation of digital fingerprints: Itero Element 5D.
A smile can change everything
Your confidence. Your outlook. Your life. And with Invisalign, achieving the smile you always dreamed of doesn't have to be a big deal. In fact, it barely has to impact your day-to-day life at all. Invisalign straightens teeth using a series of nearly invisible, removable aligners that are custom-made specifically for your teeth. As you replace each aligner every two weeks, your teeth will move – little by little, week by week, gradually moving towards the projected final position. Comfortable, clear and removable – Invisalign transforms your smile without disrupting your life. Something that over 3 million people worldwide have already discovered.
Are you ready for your new smile ?
A second opinion
Refusing a patient for Invisalign treatment? Is it possible ? We have heard that some dentists refuse to treat patients who have particular characteristics. If you were told that you were not a good candidate for Invisalign, come and meet with us to have a second opinion on the right treatments for you. In addition, with Itero® technology, we can simulate on computer so that you can see what your smile will look like in a few months!

Our clinic is equipped with the new series
iTero Element Plus
With its capabilities and power, our iTero Element Plus intraoral digital imaging system improves patient comfort and outcomes.
Invisalign results simulator.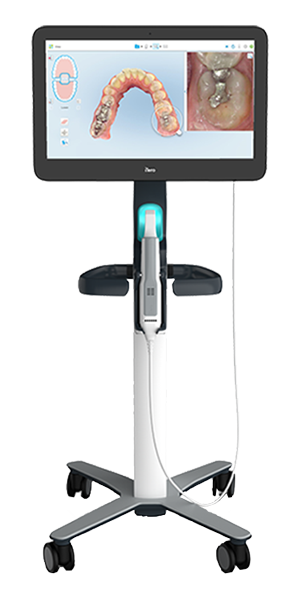 Our clinic is equipped with the latest technology. Our goal remains to treat our patients with the best tools available in the field of orthodontics to ensure results as quickly and accurately as possible.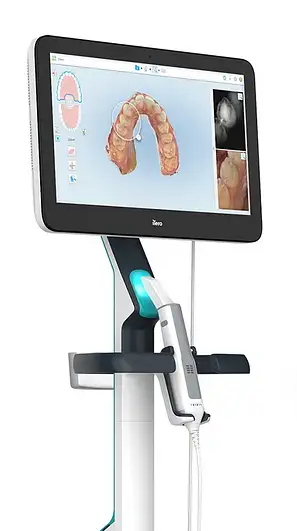 Come and try it without obligation!
See results much faster.
At Centre Dentaire Matthieu Menard, we use this revolutionary technology to simulate the results of a treatment. On a computer you will see the progress of your Invisalign treatment.
This new technology allows you to take your prints quickly. We no longer use paste that makes you want to vomit.
What is Invisalign® ?
Invisalign is the virtually invisible way to straighten your teeth and achieve the smile you've always dreamed of. Using advanced 3D computer-imaging technology, Invisalign depicts your complete treatment plan based on your Invisalign Provider's prescription, from the initial position of your teeth to the final desired position. Then a series of clear aligners are custom-made for your teeth – and your teeth only – to move them little by little. Each aligner is worn for about two weeks before being replaced by the next in the series, gradually moving towards the projected final position. Your Invisalign treatment time will be determined by your Invisalign Provider, based on your specific needs.
What are the benefits of Invisalign ?
Invisalign aligners are nearly invisible. No one may even notice that you're wearing these virtually invisible aligners, making Invisalign a seamless fit with your lifestyle and day-to-day interactions with others.
Invisalign aligners are removable giving you the flexibility to eat and drink what you want during treatment by simply removing the aligners. And you can also remove the aligners to brush and floss as you normally would for fresh breath and to maintain good oral hygiene.
Unlike traditional fixed braces, there are no metal brackets or wires. This means that in most cases less time is spent in your Invisalign Provider's practice for adjustments.
And finally, Invisalign allows you to view your virtual results and treatment plan before you even begin treatment so you can see how your teeth are expected to look when your treatment is complete.
Is this a new way to straighten teeth ?
Dentists or orthodontists have, in the past, successfully used removable appliances for years. But with the application of Align Technology's 3D computer technology and mass-customisation, the Invisalign System can be used to treat a wide range of patients who wants straighter teeth. The unique ClinCheck® software allows patients to see their treatment plan from beginning to end even before the start of treatment.
The consequences of a bad occlusion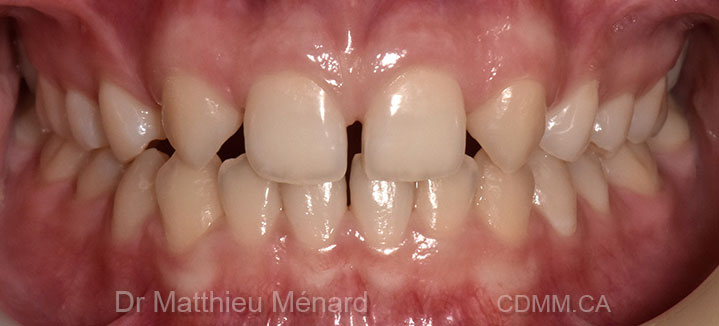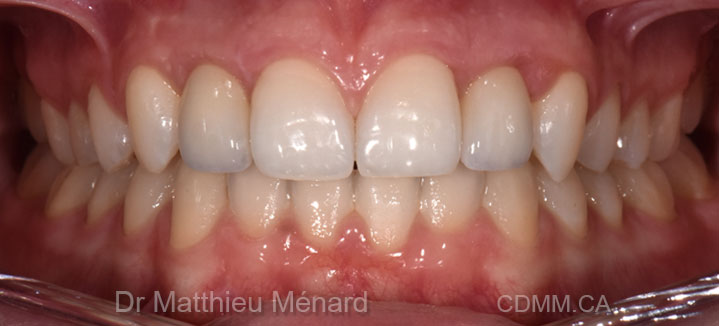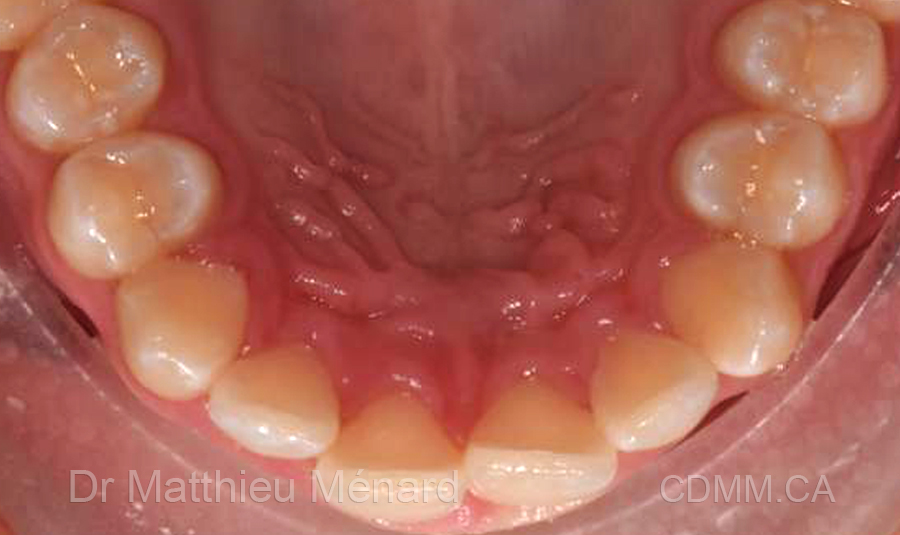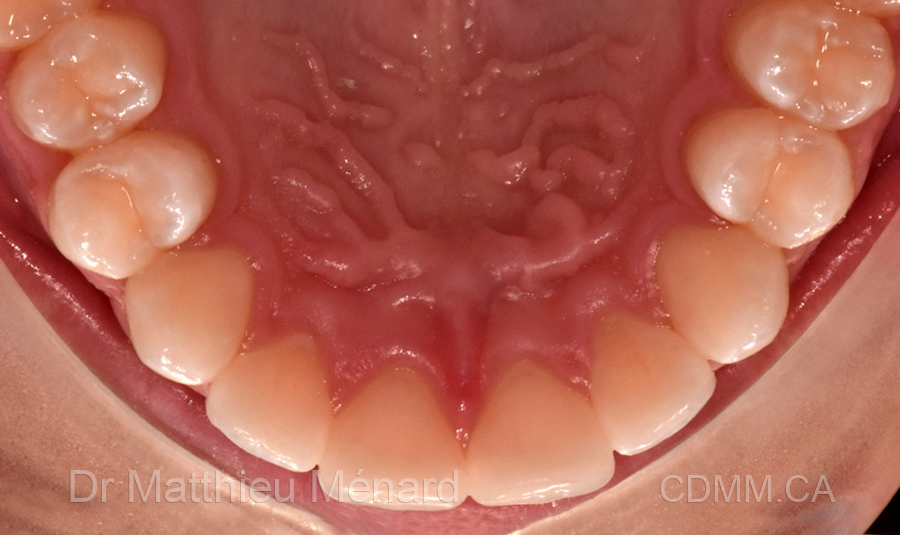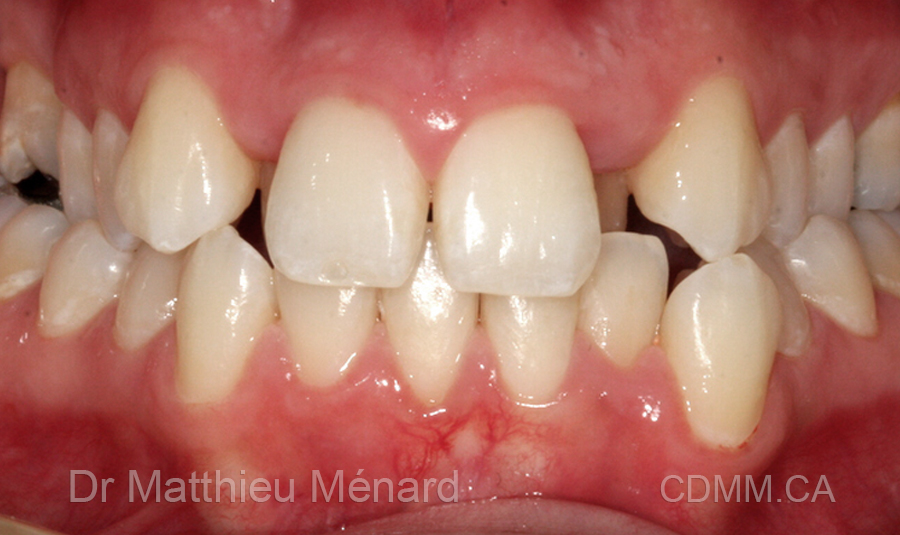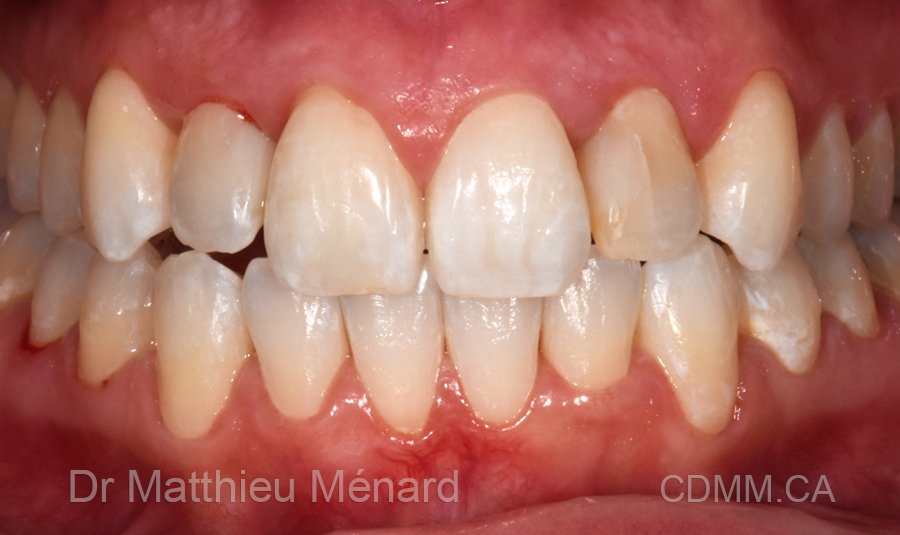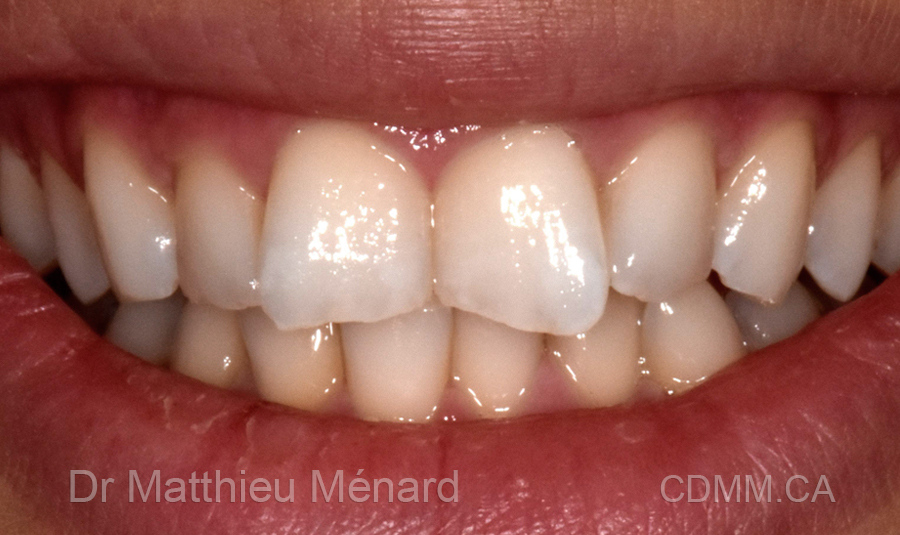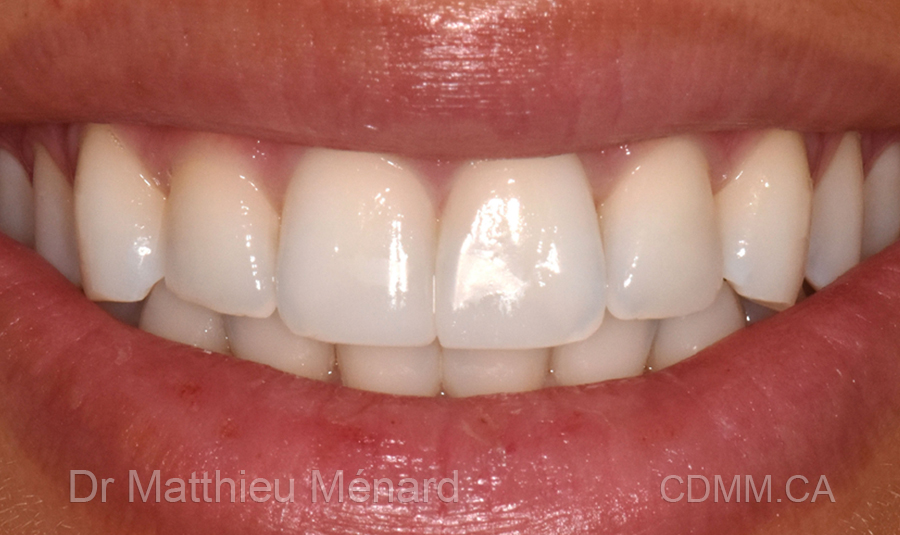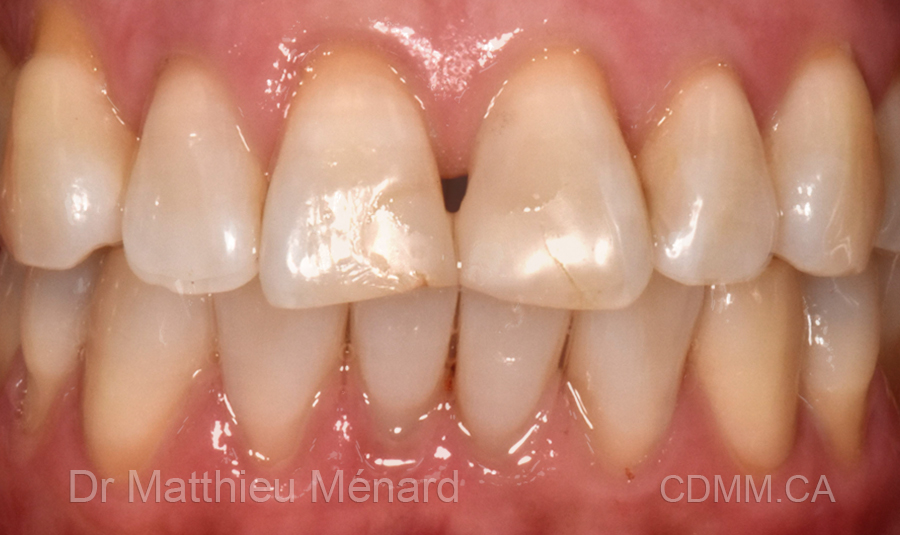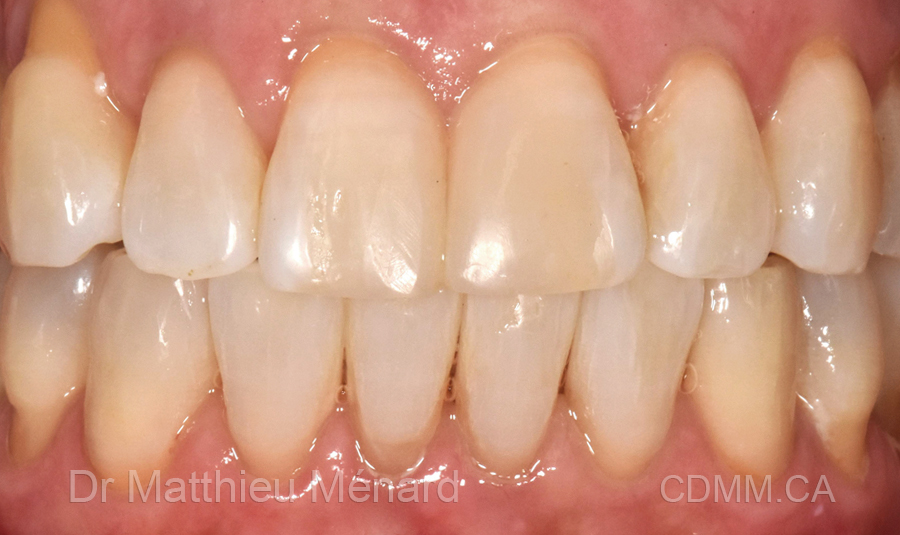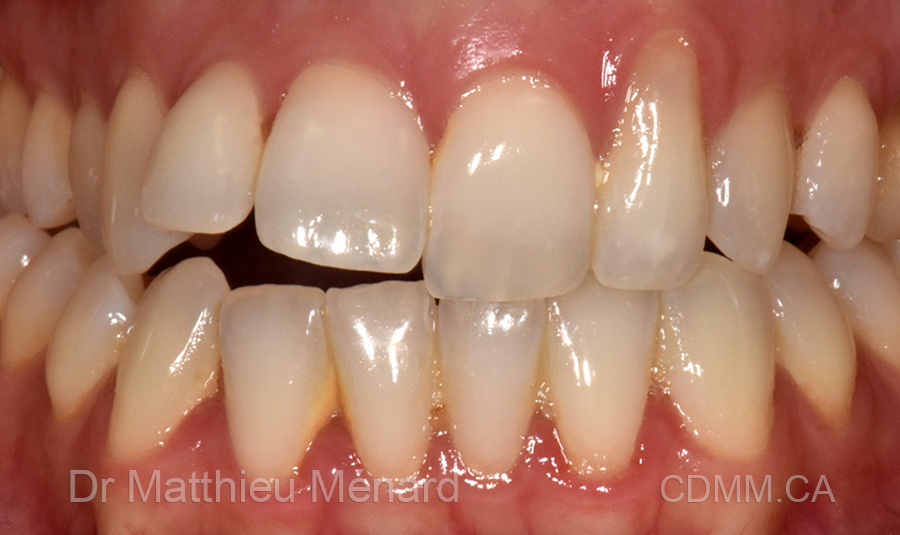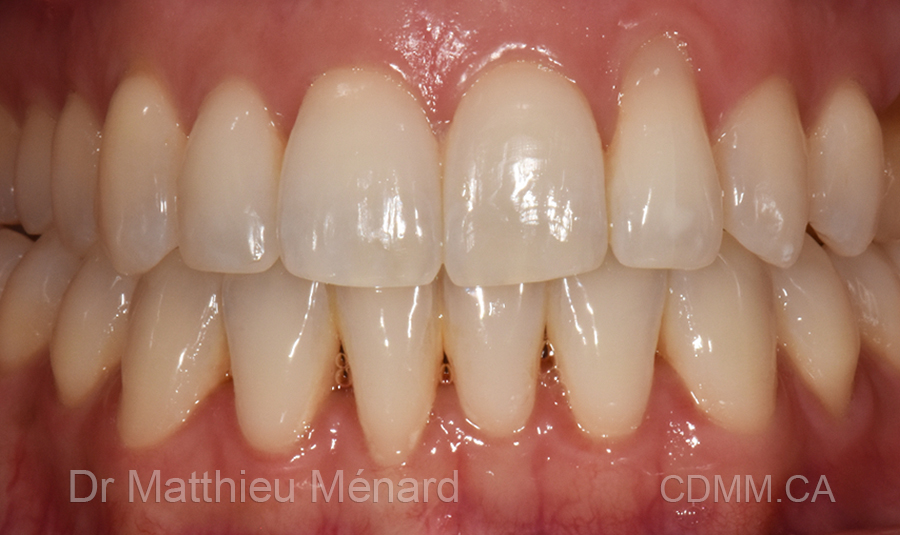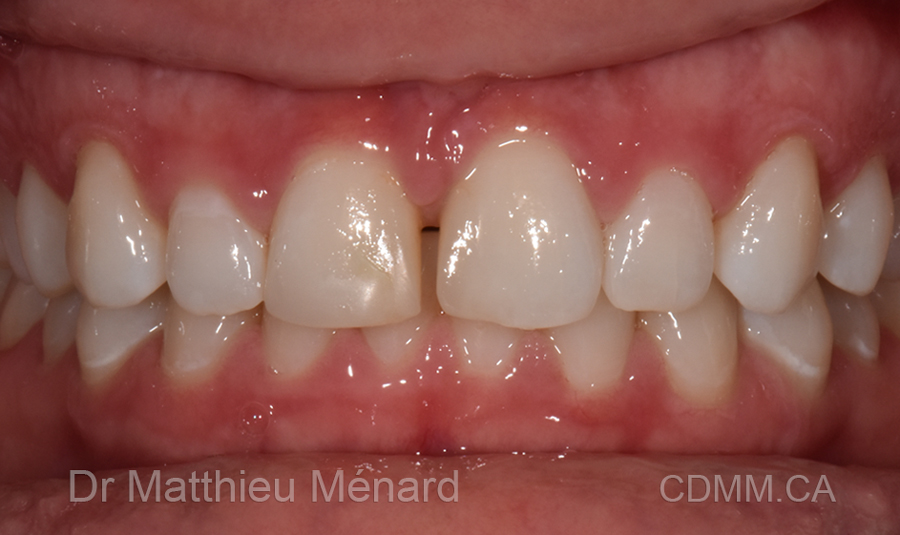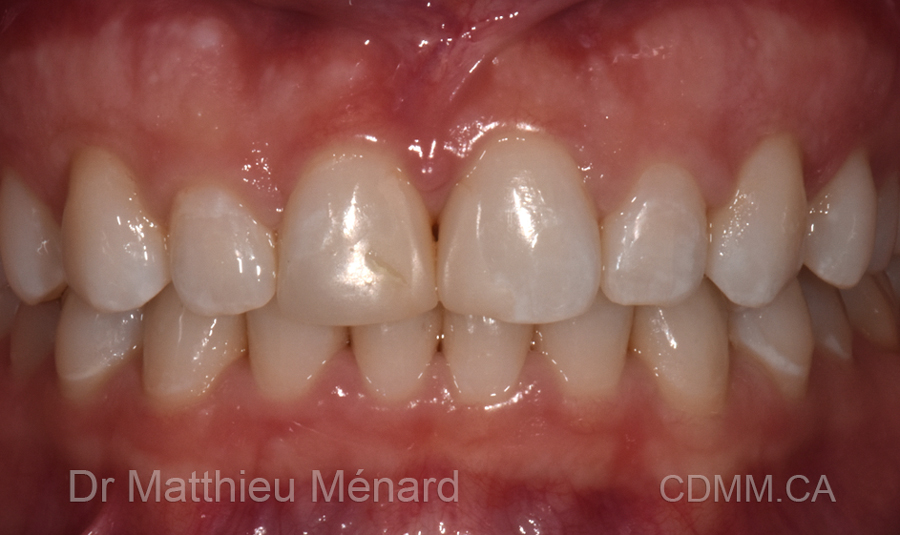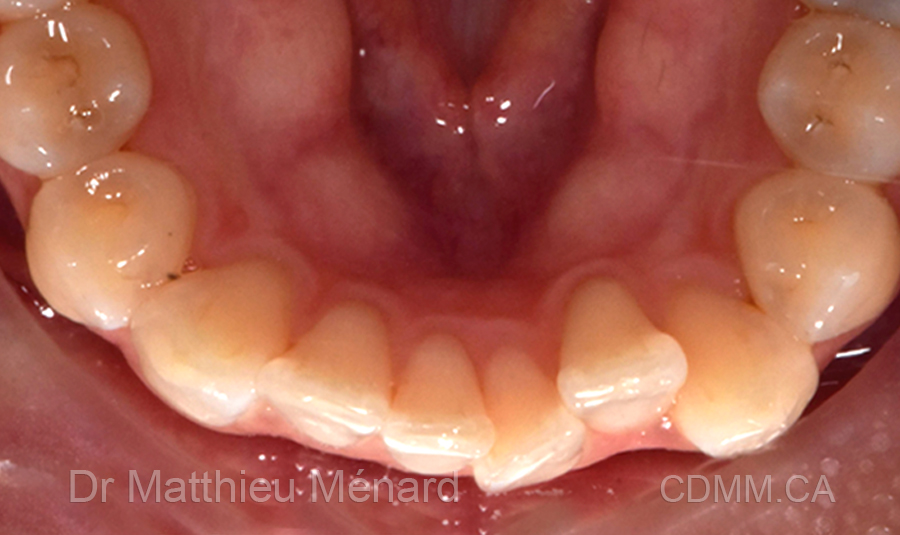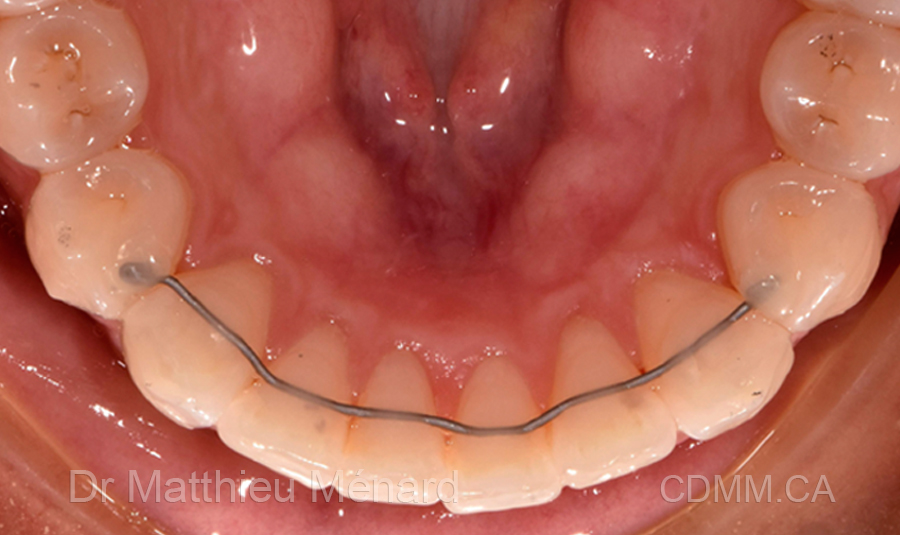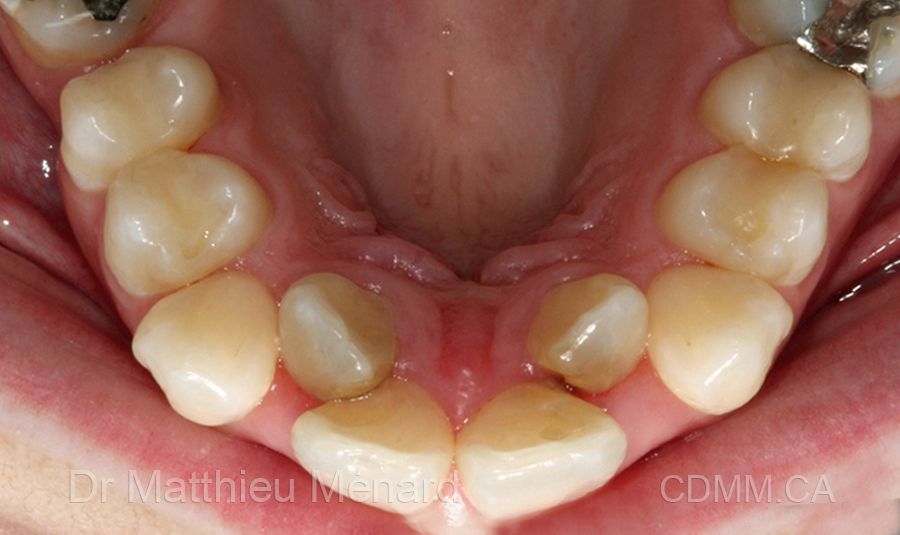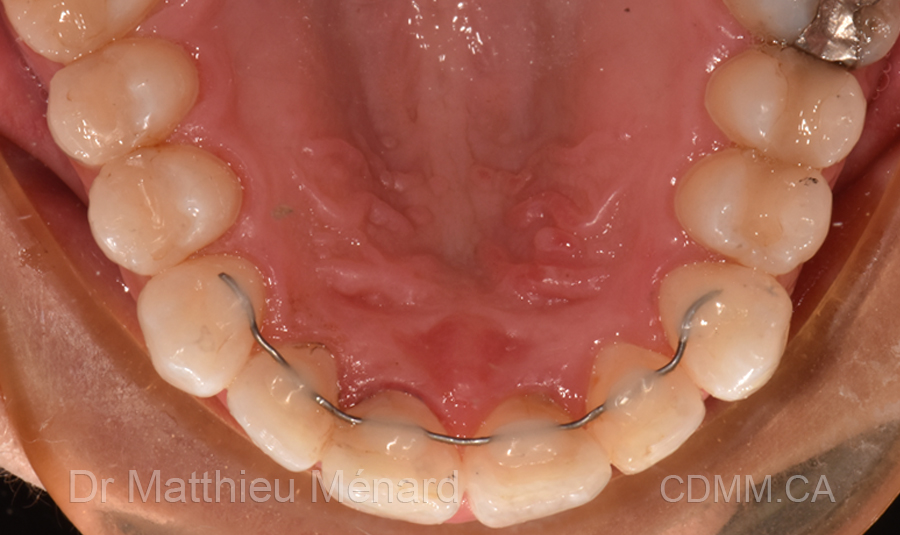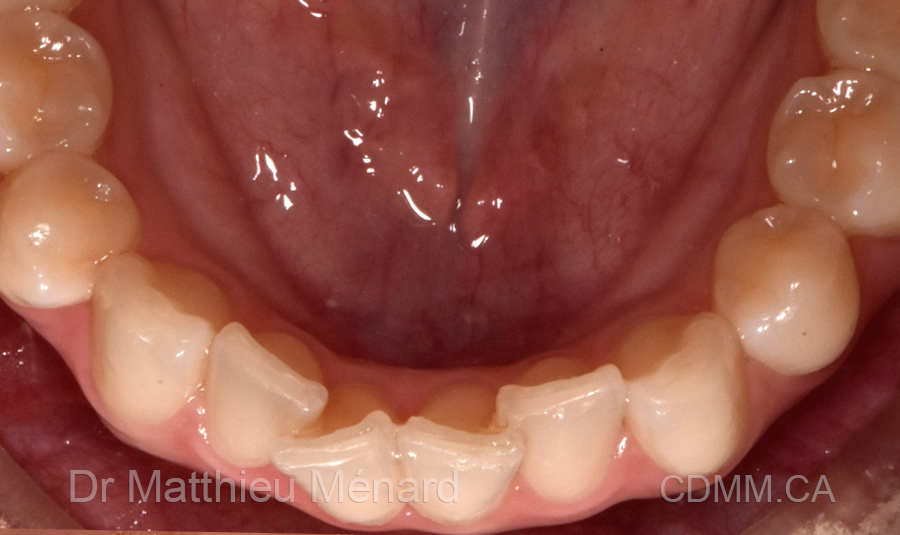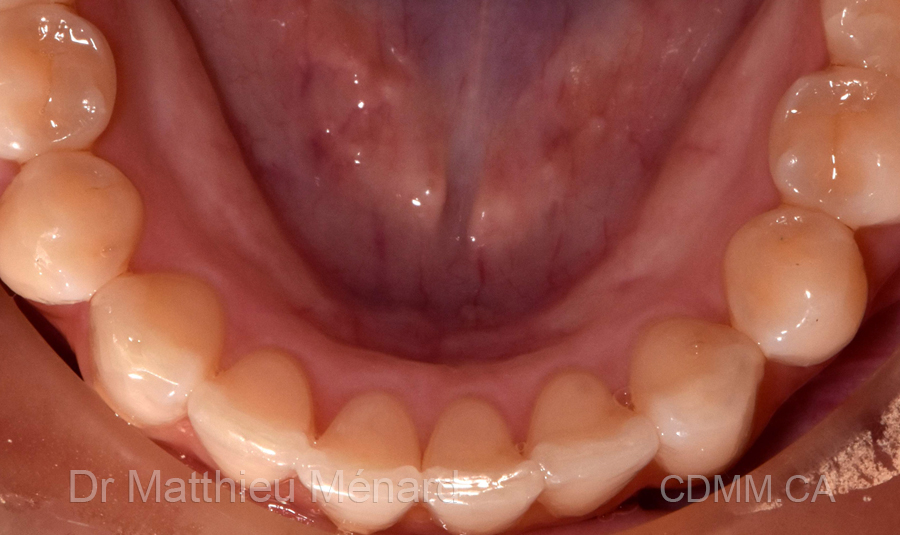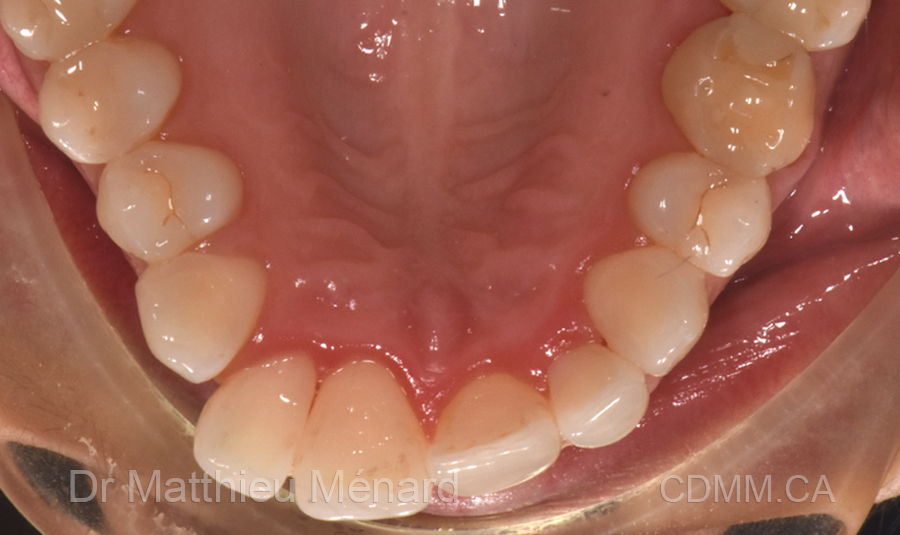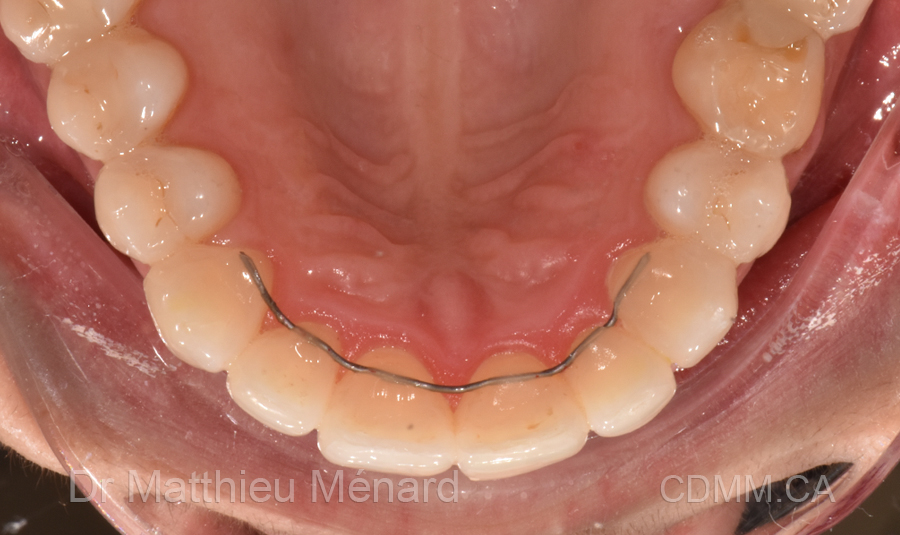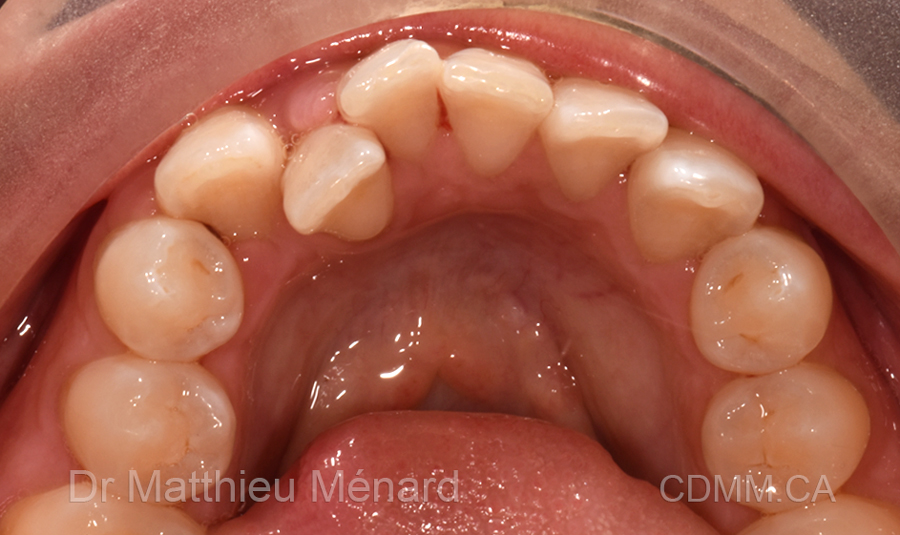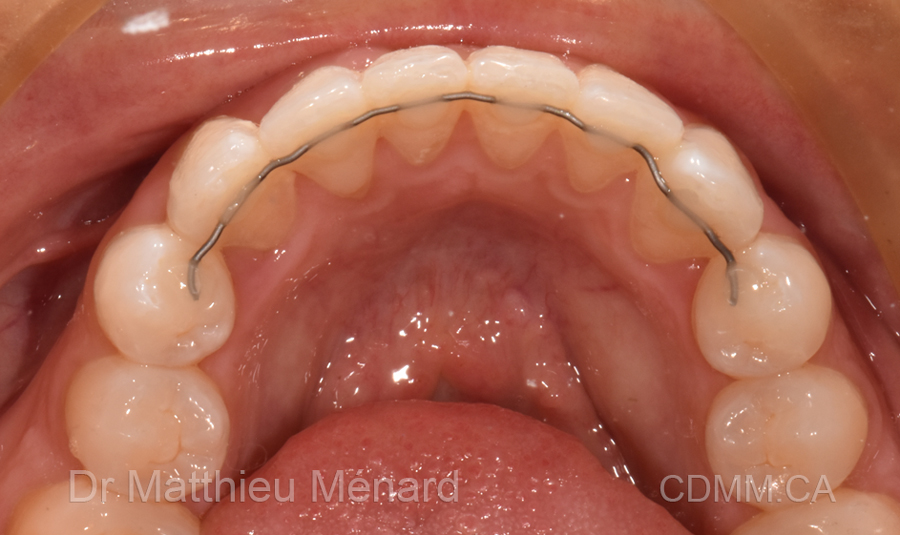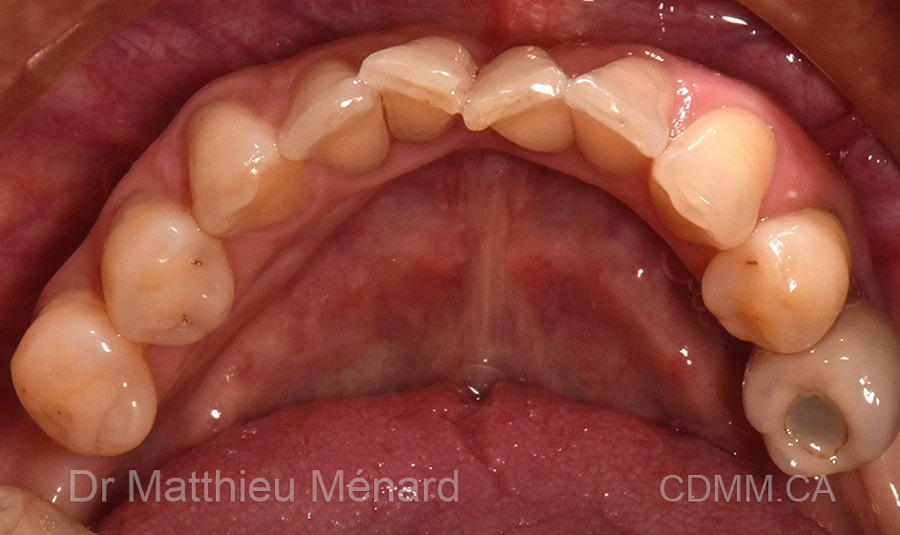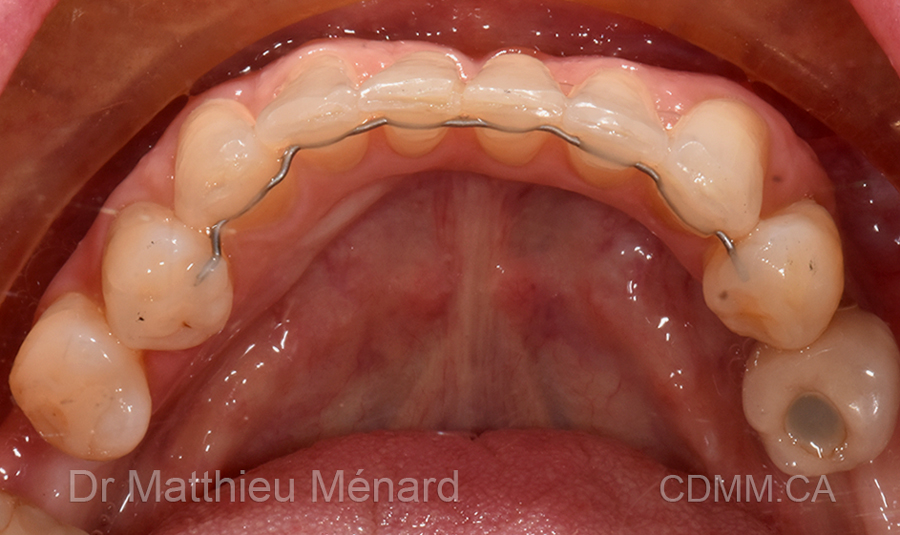 Beautiful Invisalign treatment accelerated with propel.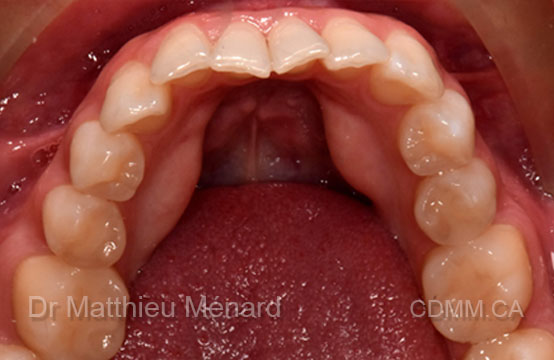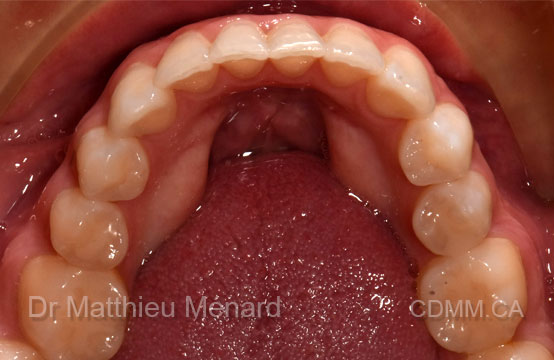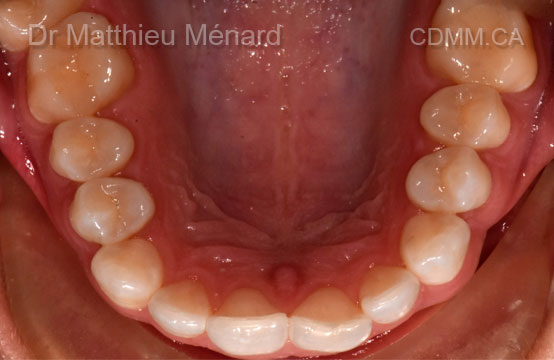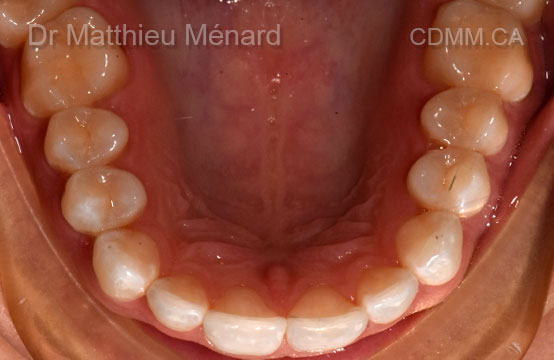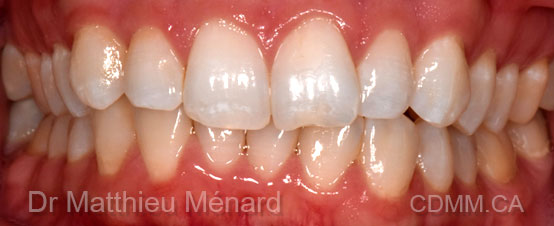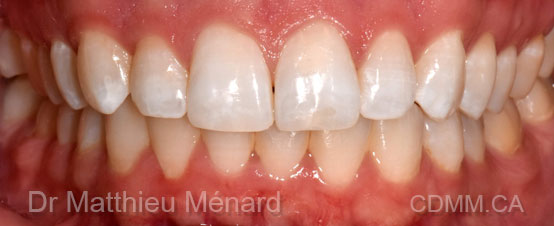 Crowding et anterior cross-bite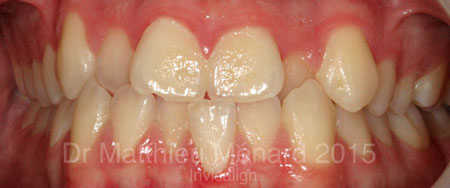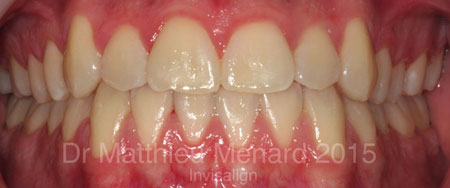 Example of space between teeth / diastemas (spacing)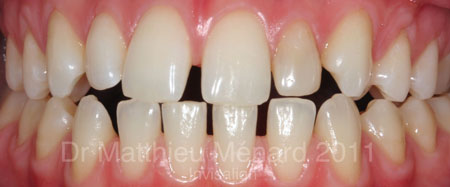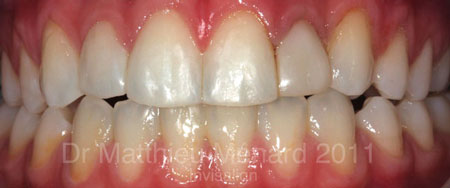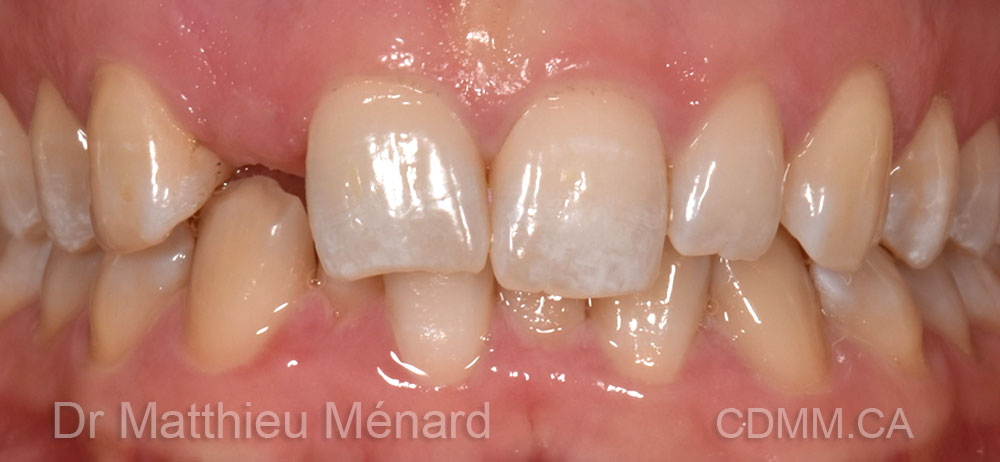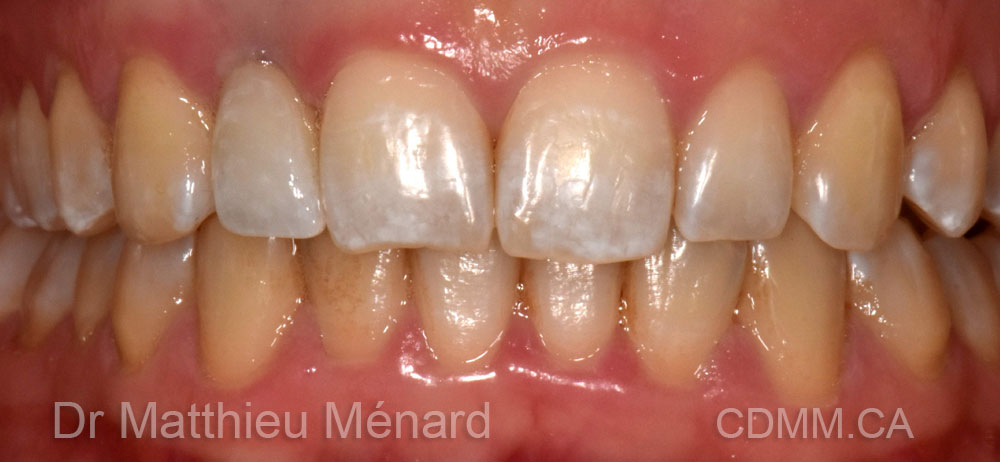 Unfortunately, our sessions are temporarily suspended during the pandemic period.
Come to our open house and learn more about Invisalign.
You will enjoy a private orthodontic consultation without commitment. ($ 142 Value)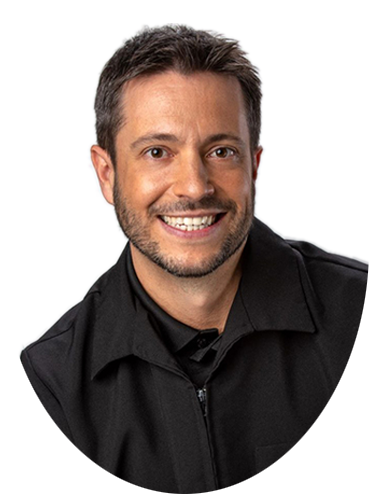 Why participate in our information evenings?
Limited places
For teenagers from 9 years and adults of all ages!
Many available dates
Private orthodontic consultation without commitment (value $ 66)
Panoramic radiography included ($ 76 value)
Professional teeth whitening during the Invisalign treatment ($ 450 value)
Retention with shell included at the end of treatment (up to $ 750) Financing Options : 24 months without interest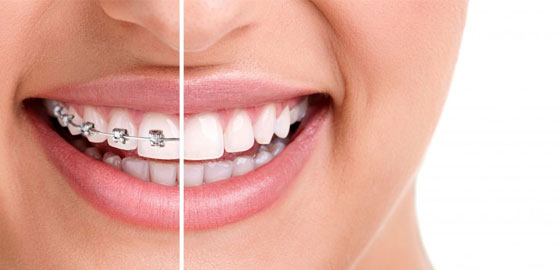 Fill in this form to know the date of the next one Invisalign information session