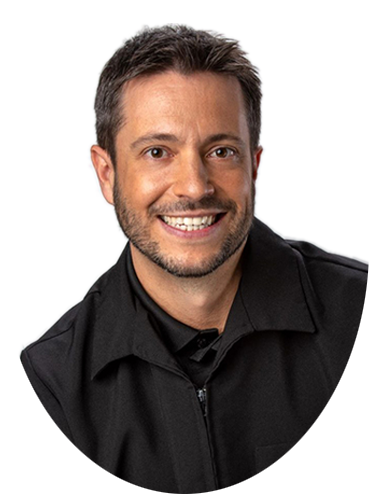 Dr Matthieu Menard
Dr. Matthieu Ménard get his Dental Medicine Degree from the University of Montreal in 2000. He becomes a dentist at the young age of 23 years old. The following year he completes a multidisciplinary dental residency in the same university combined with Notre-Dame Hospital (CHUM) where he gains a lot of confidence and great experiences to start his career. Before university, Dr Ménard studied in international school both at high school and Cegep level where he gets an I.B. diploma (International Baccalaureat). In 2005, Dr. Ménard buy Dr. Daniel Montminy and Dre André Dallaire's office which become Centre Dentaire Matthieu Ménard.
Dr. Ménard is a passionate dentist always searching and learning for better dentistry through advanced techniques, knowledge and modern technologies. Since the opening of his office, more than 250 patients had teeth replacements with dental implants. Within the following of his many dental courses, in 2011 he gets his Invisalign accreditation. In 2014, he is one of the first 5 dentist from Quebec to get the certification from Dr. Chao's Pinhole Gum Graft Surgery. By Dr. Chao's invitation, Dr. Ménard return to Los Angeles in 2015 to perfect even more with him. In late 2015 and throughout 2016 he gets through an Invisalign mentorship from Dr David Galler from Manhattan and Dr. Menard succeed in reaching Premier Provider recognition from the company. In 2016 and 2017 he obtained the status Invisalign Premier Provider with more than 100 cases. In 2016 and 2017 he obtained the status Invisalign Premier Provider with more than 100 cases to his credit. In 2018, he obtains Gold + Invisalign Provider status. He was also a finalist for the prestigious "2018 Las Vegas Golden Aligner Competition".
When it comes to black triangle closure, Dr. Ménard was trained by the inventor of Bioclear himself, Dr. Clark. This training started in 2011 and has been enriched with several updates (the most recent was in 2019).
Father of two young daughters, Dr. Ménard has a handful family life where outdoors sports and activities, photography, camping and travelling hold an important part in his free time.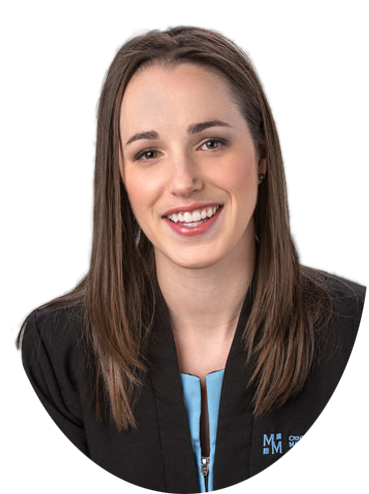 Dre Marie-Elaine Leduc
Dr. Marie-Élaine Leduc has been a part of the team at the Centre dentaire Matthieu Ménard since 2013. Having distinguished herself with excellent academic results and community involvement, she graduated from Université de Montréal in 2010 on the Dean`s honour list. Following graduation, Dr. Leduc pursued further training in surgery and oral medicine by completing a general practice residency at the Notre-Dame Hospital. She currently divides her time between private practice and a hospital based practice within the CIUSSS de l'est-de-l'Île-de-Montréal.
She lives in Saint-Lambert and is passionate about skiing, running, travel, and cooking.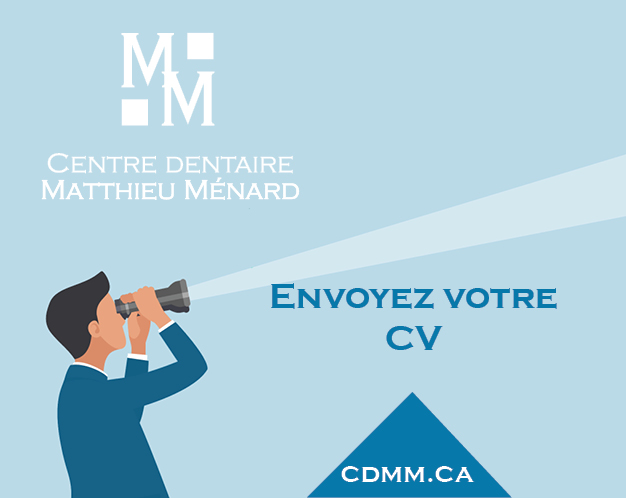 Greenfield Park / Saint-Lambert
Following the expansion of our clinic, we are looking for candidates for the positions of:
Dental secretary

Full time and part time

Dental hygienist

Full time and part time

Dental assistant

Part time

Flying sterilization attendant / Dental assistant

Full time and part time