Pinhole Surgical Technique  PST™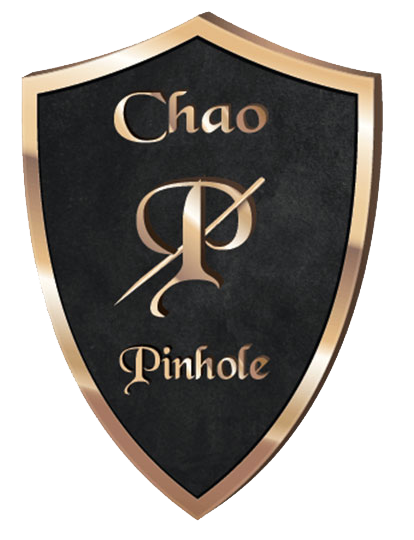 Chao Pinhole Gum Rejuvenation™ is now offer in
Burlington Vermont and Plattsburgh New York area
at an unbeatable price !

Here is a revolutionary treatment against gum recession:
Chao Pinhole Gum Rejuvenation™
Why go to Dr Matthieu Menard's office for my Pinhole surgery :
1. Expertise
Dr Matthieu Menard has been doing Pinhole Gum Surgery since April 2014, and he is one of the first 400 dentists in the USA and Canada to offer the technique.
2. Cost
Take big advantage of the high value of USD versus Canadian dollar. You'll pay around 450 USD per tooth at Dr Menard's office. That can be up to thousands of USD of saving compared to the price found in the USA dental offices.
3. Proximity
We are closer than you think. Look at the table below to have distance from some Vermont and New York cities.
| | | |
| --- | --- | --- |
| Cities | Distance | Time |
| Burlington VT | 90 miles | 1:30 |
| St. Albans VT | 60 miles | 1:05 |
| Plattsburgh NY | 58 miles | 1:00 |
| Swanton VT | 54 miles | 0:59 |
| Champlain NY | 38 miles | 0:45 |
4. Yes we speak english !
You'll have absolutely no trouble getting english services during your short trip to Dr Menard's office.
5. High-end office
Dr Menard and his team will provide high-end dental services in a peaceful environment. The quality of services is equal or better than the ones found in the USA dental office.
6. For shopping lovers
Take advantage of the high USD value to shop at the famous Quartier DIX30, one of biggest and newest Montreal shopping centers. 5 miles from Dr Menard's office.
Link to : https://www.quartierdix30.com/en/
7. Montreal's downtown!
Take a short trip to Montreal. Dr Menard's office is located only 5 miles (or 15 minutes) from Montreal's downtown!
Only one treatment may be sufficient to correct the gingival recession problem
The Dr Chao Pinhole Surgical Technique, PST ™ is the ideal alternative to traditional gum graft and transplant gums with Alloderm.
Unlike traditional gum grafting techniques, Dr Chao Pinhole Surgical Technique, PST ™ is done without a scalpel and without stitches. This method does not require the use of palate tissue to reconstruct the gum.
There is no registry, no suture and no incision required with this surgical technique. It simply involves the adjustment of existing gum.
What are the benefits of PST ™ Surgical Technique?
SUTURE FREE : No need for uncomfortable sutures
SCALPEL FREE : No need for scalpels or invasive surgical tools
CONVENTIONAL GRAFT FREE : No need to use patient palate tissue
Less discomfort for the patient after treatment
Faster Recovery for the patient in comparison to traditional transplant
Excellent long term results and natural look
Only a certified Pinhole Academy dentist can offer this treatment. Dr Matthieu Ménard was trained in April 2014 and followed a second training for development in May 2015.
To date, fewer than ten dentists in Quebec offer this service.
Conventional gum grafting
vs
Pinhole Surgery Technique™
Interview with Dr Chao at The Doctors
Here are a few cases treated by
Dr. Matthieu Ménard.
Here is an interesting case of Pinhole.
After 30 months, the results are beautiful and stable.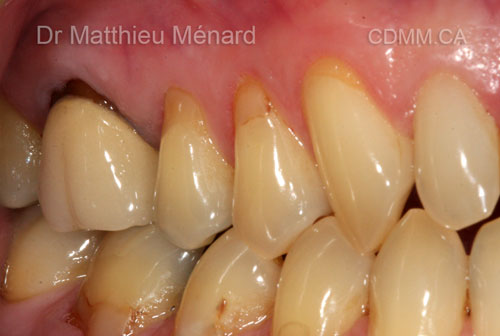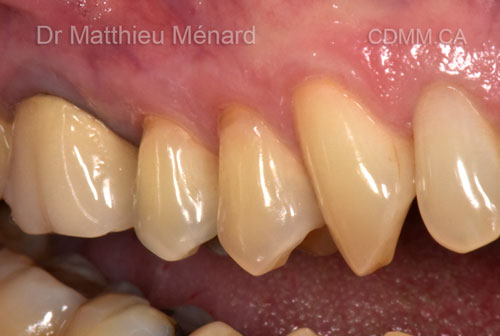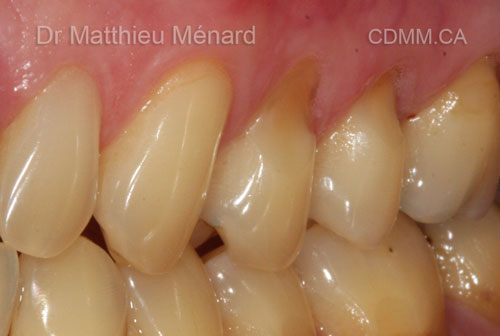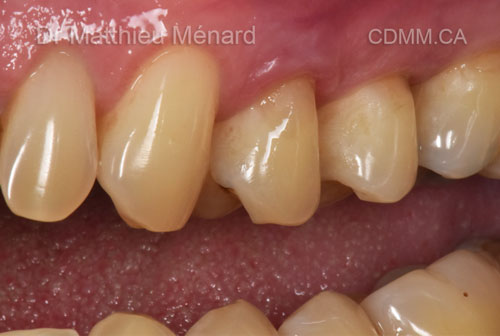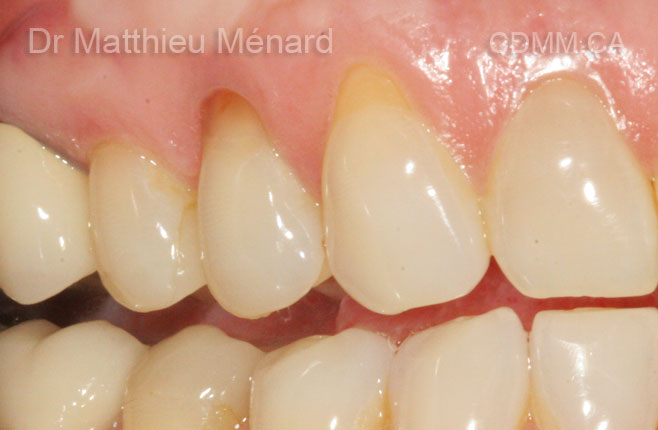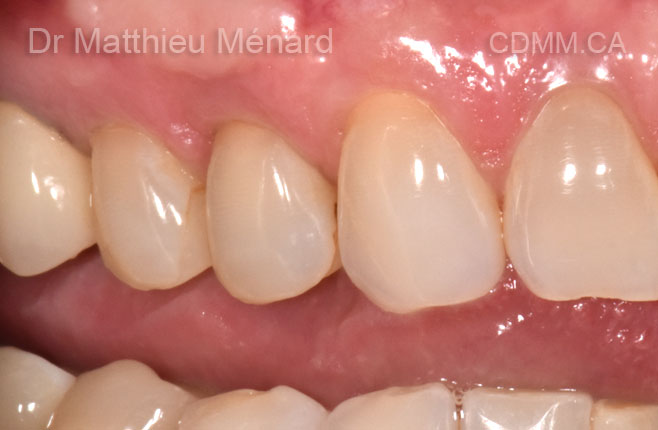 One treatment !
Pinhole case for a single tooth. See the result 4 years later.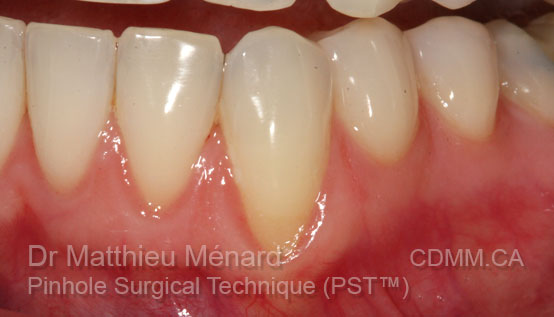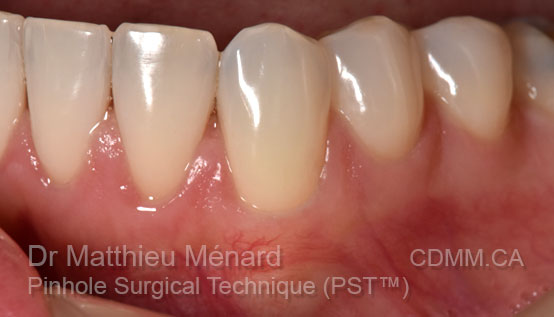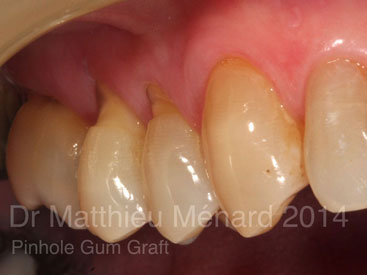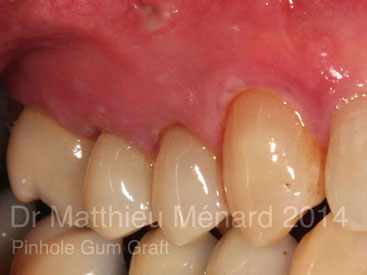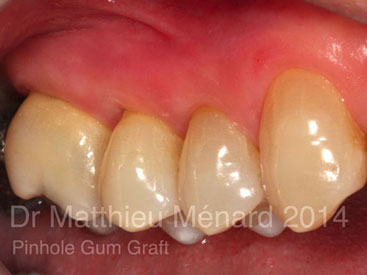 The patient in the previous case supported intervention so well, that three months after the first operation he asked to do the other side.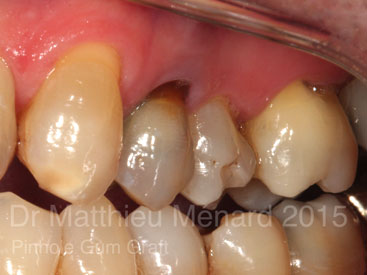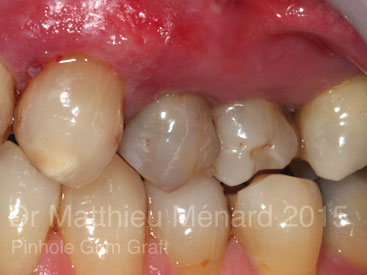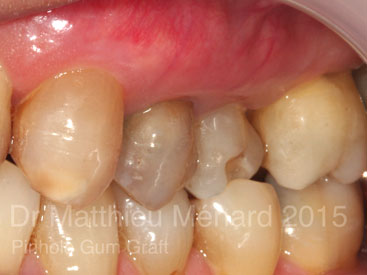 Through the pinhole technique, it is possible to eliminate unsightly composite on the roots as in this case.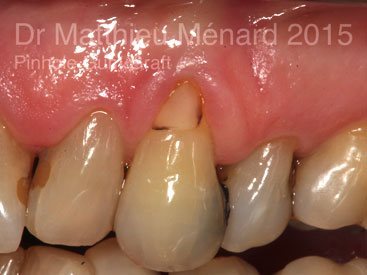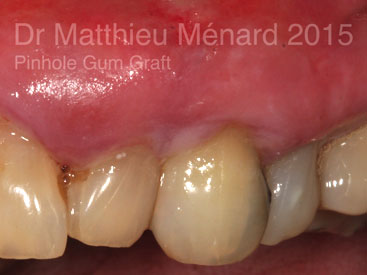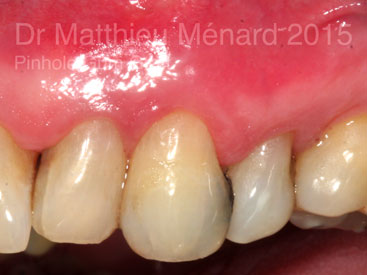 This is a traditional gum graft.